Welcome to Belvoir Park Nursery Unit!

We warmly welcome you to Belvoir Park Primary School Nursery Unit! We operate a full-time nursery setting with 52 children attending two classes of 26 children. Each class is staffed by a Teacher and Nursery Assistant.
Our Nursery's core purpose is to provide a happy and caring environment where the children are nurtured and encouraged to develop their skills emotionally, socially, physically, intellectually and creatively through play, across all areas of the Pre-School Curriculum.

The six areas of the Pre-School Curriculum are resourced both indoors and outdoors. We have a large outdoor space which allows the children to explore, investigate and discover the world around them. This includes a woodland area where the children enjoy engaging in movements such as climbing trees, running and balancing on beams. Lots of creativity is encouraged at the mud kitchen and natural resources are available for the children to develop their imaginative play.
We also have a covered area where the children enjoy building with large blocks, engaging in water play, small world play and mark making on white boards and the chalk board!

Nursery Teachers:
Mrs J. McDowell
Miss B. Megaw
Mrs C. McCormick
Nursery Assistants:
Mrs G. Hamilton
Mrs D. Orr
General Assistant:
Mrs Z. Greenlees
Big Bedtime Read
Big Bedtime Read focuses on raising awareness of the importance of reading.
This theme promotes the importance of reading to young children and will encourage you to read regularly to your child, particularly at bedtime.
Within this theme there will also be information and advice on establishing a good bedtime routine and reducing screen time. Information will also be provided on maximising opportunities throughout the day to engage your child in early reading experiences.
Benefits of Regularly Reading to Your Preschool Child:
Sharing stories, talking and singing every day helps your child's development in many ways.

Through reading regularly to your child, they will learn to value books and will experience stories that will spark their imagination and stimulate their curiosity.

Your child will become familiar with a wide range of sounds, words and language and will be developing early literacy skills, like the ability to listen to and understand words and the ability to focus.

Children who are read to when they are young are more likely to be readers later in childhood.

Reading, particularly at bedtime, provides a great opportunity to have snuggly, one-on-one time that will help create strong parent-child bonds.
Parents can help their children become interested in reading if they are to succeed in school. Click on the links below, to have a look at the top tips and powerpoint below, to make reading with your child more effective and enjoyable!
Parent support for bed time routines... Check out these websites below for more tips!
Reading and Speech & Language
Here's what we have been up to throughout the year...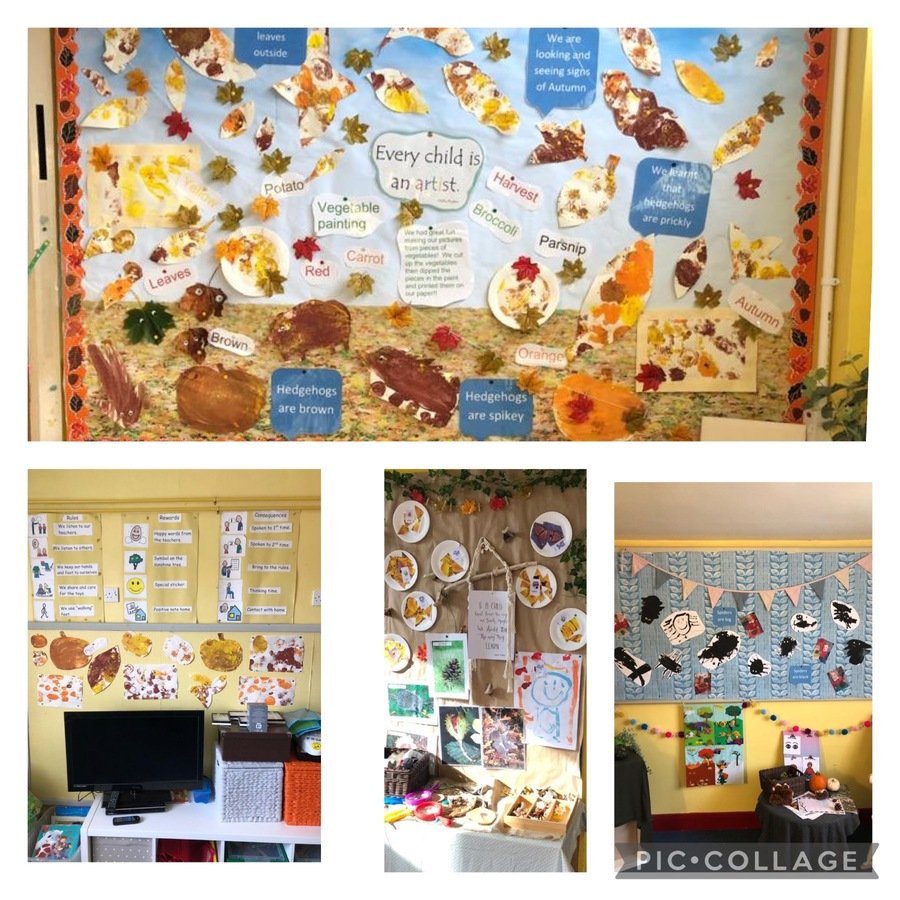 We have been developing our independence through a variety of routines in Nursery, including our buffet snack!
We enjoyed walking through Belvoir Forest
We collected autumn things such as leaves, twigs and conkers for our classrooms!